TF.SF 13 July
-
With Sunday's terrorist attacks in Uganda's capital Kampala, Somalia's powerful Islamist group Al Shabaab has taken a great step towards becoming Al Qaeda's East Africa regional member cell.
Hawa Siyaad
and The most recent terror
three bombs exploding at the same time in two Kampala pubs showing the World Cup finals is the first Al Qaeda style terror attack on civilians committed by Al Shabaab abroad. The attack
s left 76 dead
and 76 injured.And the terrorism targets were not picked accidentally. Uganda is a major contributor of troops to the African Union Mission to Somalia (AMISOM) and a firm pro-Western ally of Al Shabaab arch enemy Ethiopia. One of the two targets was Kampala's "Ethiopian Village" restaurant, popular with foreigners.According to Ugandan police, an explosives-laden vest was today found at another Kampala nightclub. The already activated bomb was neutralised in the last moment, avoiding yet another slaughter of innocent civilians.Ugandan authorities and the public now are on "high alert" over possible new terrorist attacks in the country. But also in Burundi, which also is a major AMISOM contributor, there are terrorist fears as Al Shabaab has threatened to strike in Bujumbura. Even in Kenya, which has no troops in Somalia, is on high alert.Al Shabaab this year, for the first time has made it clear it will strike all over East Africa. Before the Kampala terrorist attack, an Al Shabaab spokesman had announced strikes in Uganda and Burundi. Al Shabaab yesterday claimed responsibility for the Kampala terrorist attacks, giving details about the bombs not earlier released by Ugandan police.There is therefore no doubt that Al Shabaab has taken its terror campaign to the entire East African region, with its main targets being Somalia, Ethiopia, Somaliland, Uganda and Burundi.The Somali extremist group, which controls large parts of Somalia ruling in a Taliban inspired manner, has also gradually strengthened its ties with the global terrorist movement Al Qaeda. Al Shabaab leaders' public hailing of Osama bi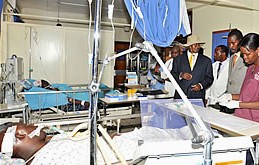 Uganda's President Yoweri Museveni visiting the injured from the terrorist attack at the Mulago Hospital
© Uganda govt/afrol News
n Laden has increased, contacts with Al Qaeda have been confirmed and there are non-Somali fighters present in Al Shabaab ranks.
There are talks of Al Shabaab wanting to become a regional Al Qaeda member group as the more extreme leaders within Somalia's armed Islamists have gained the upper hand in the organisation. Foreign Arab influence is visibly on the increase in Al Shabaab, which also the Al Qaeda-style Kampala terrorist attack is proof of.
Al Qaeda seemingly wants to use Al Shabaab to transform East Africa into yet another front in its global terror campaign. Its attempt to take root in the Maghreb and Sahel so far seems to have failed, making Al Shabaab's cooperation a welcome return to Africa for Al Qaeda.But the extremist movements' attempt to gain a foothold outside Somalia will not be easy. Kenya and Tanzania have been fairly successful in rooting out Al Qaeda groups from their territories after terror attacks in the 1990s and will use their experience to hinder Al Shabaab from re-establishing in the region.Uganda and Burundi, being able to draw upon help from their East African Community neighbours Kenya and Tanzania, are heavily militarised countries with a tradition of intelligence services and anti-terror operations.Even neighbouring Ethiopia and Somaliland have been successful in reducing Somali extremist activities on their territories, almost eliminating their influence.And Al Shabaab cannot count on much regional support anymore. In Sudan, a country that had contacts with Al Qaeda in the 1990s, government is by now strongly repressing any extremist groups. Even Eritrea, which provided Al Shabaab with arms to help fighting the common enemy Ethiopia, is now reconsidering its stands on the Somali Islamists.For the African Union (AU), this attempt by Al Shabaab to internationalise its terror war has only served as a reminder that the Islamist group must be defeated in Somalia. "This tragic event will strengthen the collective determination of Africa to play its part in the struggle waged by the international community to stamp out the phenomenon of terrorism," asserted AU Commission leader Jean Ping today.