O
bama has betrayed the Somali-Americans who voted for him. He implement the most harsh and colonial policy on Somalia in modern times. DUAL TRACK POLICY FOR SOMALIA. Means divide and contain

Somalia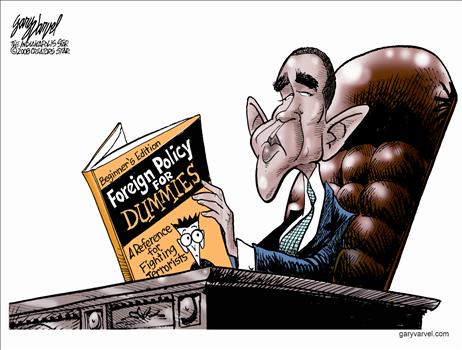 OBAMA Betrayed Somali-Americans by dividing somalia into clan states.
we will talk about it! It is he proposal to divide to into three separate states
U.S.'s Dual-Track Policy: Does it help or hurt the efforts to End Somalia's Crisis?
WHY NOT Divide Iraq into three mini-states Shia, Sunni, Kurdish and then pit them against one another? or afghanistan Hazara ,Brahui ,Pashtun , Baloch and Taji...we are going to expose Obama's Discriminatory Policy...respect the territorial integrity of other countries is ok .. but not somalia.. because

he's black

. perhaps, what he thinks, he can't get away with it -
An Open Letter to Johnnie Carson
Article 1 The Republic
1. Somalia is an independent and fully sovereign State. It is a representative, democratic and unitary Republic. The Somali people is one and indivisible.
2. Sovereignty belongs to the people who shall exercise it in the forms determined by the Constitution and the laws. No part of the people nor any individual may claim sovereignty or assume the right to exercise it.
3. Islam shall be the religion of the State.
4. The national flag shall be azure in colour, rectangular, and shall have a white star with five equal points emblazoned in its centre.
5. The emblem of Somalia shall be composed of an azure escutcheon with a gold border and shall bear a silver five-pointed star. The escutcheon, surmounted by an emabattlement with five points in Moorish stile, the two lateral points halved, shall be borne by two leopards rampant in natural form facing each other, resting on two lances crossing under the point of the escutcheon, with two palm leaves in natural form interlaced with a white ribbon.
Somali Transitional Charter. Transitional Federal Charter for the Somali Republic
http://www.unhcr.org/refworld/country,,,LEGISLATION,SOM,456d621e2,4795c2d22,0.html
ARTICLE 1:1 THE SOVEREIGNTY OF THE SOMALI PEOPLE.
1. All the sovereign authority belongs to the people of Somalia and may be exercised directly or indirectly through their representatives, in accordance with this Charter and the laws of the country.
2. The right to exercise sovereignty shall not be delegated to any individual, group or class, and no person shall arrogate to him or herself, or exercise any State authority, which does not emanate from this Charter or any laws of the Land not inconsistent with this charter.
1. The Government shall encourage the unity of the Somali people by promoting their cultures, customs and traditions.
ARTICLE 2 THE TERRITORY OF SOMALIA
1. The Territorial Integrity and Sovereignty of the Somali Republic shall be inviolable and indivisible.
2. The territorial sovereignty of the Somali Republic shall extend to the land, the islands, territorial sea, the subsoil, the air space and the continental shelf.
ARTICLE 67 NATURAL RESOURCES AND ENVIRONMENT PROTECTION.
1. The natural resources of the country such as the minerals, water, flora and fauna shall be public property and a law shall be enacted which defines the manner of exploitation for the
common good.
2. The Transitional Federal Government shall give priority to the protection, conservation, and preservation of the environment against anything that may cause harm to the natural biodiversity and ecosystem.
3. Every person in the Somali Republic shall have a duty to safeguard and enhance the environment and participate in the development, execution, management, conservation and protection of the natural resources and environment.
4. The Transitional Federal Government shall adopt urgent measures to clean up the hazardous waste dumped on and off shores of the Somali Republic. Compensation shall be demanded of those found liable for such crimes.
Somalia, US, and the Oboma Dual-Track Letdown
History repeats itself :
Karl Marx Quotes.
Like father, like son
Barack Obama's
Luo tribe in Kenya
pro-British
Many tribes, such as the Masai and the Kikuyu, were displaced. ... Freedom Army (better known as the Mau Mau) against the British colonial authorities..
US support for Kenya's independence from British colonialism in 1950s.
The British colonial presence in Kenya formally began in 1895,
Let me thank you for your support and everything you've done

,

thank you to the many volunteers - and the voters - who made this victory possible

2010 midterm elections

.

Somali American community, most

Voted for the Republican

all the time .

Don't forget your history
We Told You So.
'Fool me once, shame on you; fool me twice, shame on me.
No matter what political party you support, you must be registered in order to vote in any local, state or federal election in the United States. Registering with a party gives you the added ability to vote in the party's primary elections. By registering to vote as Republican, you can participate in Republican primaries and be considered an official member of the Republican Party.
Look into whether you need to register to vote. If you have moved to a new address, changed your name, or if you did not vote in the last presidential election and have not voted since, your registration must be updated.
Register to vote by filling out a voter registration form. Get the form from a post office, the DMV or from the website of your county or state. Follow the instructions provided on the form in order to properly fill it out and turn it in.
Look for the party identification box on the form. A list of political parties recognized by your state are displayed. Check "Republican Party" to register to vote as a
Republican.
Wait to receive your voter registration card in the mail. You should receive a card in the mail in 6 to 8 weeks confirming you have registered to vote as a Republican. The card also tells you where your official polling place is.
U.S. Somali communities we live in a battleground state. our vote will make a big difference.
... It's Time To Kick Barack Obama Out Of Office
How to Register to Vote Republican
Go to this website
http://www.mngop.com/index.asp
http://www.tngop.org/
http://www.mainegop.com/
http://www.ohiogop.org/
http://www.wsrp.org/
http://www.nygop.org/
Let Us Help the father of the Somali Conservative movement Somali-American, From western New York . new somali prime minister
Somali Prime Minister Mohamed Abdullahi Mohamed
The Fight Against Al Qaeda. and Restore Hope in Somalia.
The presence of an external enemy that is determined to exploit their weaknesses – Somali people must stand up to
Terrorist
stand shoulder to should and creating a united and strong Somali government is necessary for their survival in that part of the world. Further research is needed in order to provide policymakers and stakeholders with practical suggestions for addressing these problems. The Italians and the British colonized separate parts, but their efforts to impose Western laws never really worked. Disputes tended to be resolved by clan elders. Deterrence was key. "Kill me, and you will suffer the wrath of my entire clan" - that, to many people, was social order. The places where the local ways were disturbed the least, as in British-ruled Somaliland, seem to have done best in the long run, with less fighting today than in areas where the Italian colonial administration supplanted the role of traditional elders,some Somalis have grown suspicious of a strong central government, especially years of Mohammed Siad Barre, from 1969 to 1991. Clan-based warlords toppled Siad Barre, then turned on one another. In some places, limited local governments sprouted to fill the authority vacuum. They called themselves "administrations" obama call the counry.The result today is an ascendant Islamist guerrilla force, a wounded and divided transitional government and an increasingly impatient Ethiopia. Stir in Somalia's war profiteers, including gunrunners and importers of expired baby formula, and the country seems to be a recipe for long-term disaster. Aid officials say Somalia may be headed toward another famine, with nearly 3 million people dependent on emergency food aid, 1.5 million displaced and aid workers being killed. a group of Somali-Americans
wants to stop. from ny
Somali Prime Minister Mohamed Abdullahi Mohamed visits the Military bases in Mogadushu.:marriage, Muslim chat, Muslim friends or Muslim penpals .: Islam Women For Dating Islam singles seek love, dating and marriage. Join free today.: Somali News November 19, 2010 Hees Somali PM pays visit to Amisom hq Mogadishu Friday 19 November 2010 SMC The new Somali Prime Minister, Mohamed Abdullahi Mohamed, yesterday paid a visit to AMISOM Force Headquarters
from va.
Defense Minister Says Mogadishu Security Measures Underway
also from va
Somali Minister of Information His Excellency MinisterAbdikareem Hassan Jama : VIDEO: PRESS CONFERE
New Prime Minister Mohamed Abdullahi Mohamed (Farmajo) told «Middle Eas .aawsat.» no doubt that al Qaeda can only live in an environment such as Somalia
African force in Somalia reaches full strength.. also UN seeks $530 million for Somalia 'catastrophe'
up date
The Economist: Somalia's insurgency : African Union troops in the Somali capital have pushed back Islamist fighters
Somali Prime Minister Mohamed Abdullahi Mohamed Visit Frontline in the Seized Military Base. Terrorist Omar Hammami, aka Abu Mansour al-Amriki,On-The-Run : American vs. American UPDATE 50 rebels killed in Mogadishu
According to a press statement from new Somalia's prime minister..
Mohamed Abdullahi Mohamed
Obama and his Administration are Undermining War on Terror in somalia. Stop - Obama Discrimination policy . OBAMA WANT TO divide into SOMALIA three countries . the most homogeneous countries on the planet: Almost all of its estimated to ten million people share the same language, religion, culture and ethnicity..poor
Black Always Gets
the
Short End of the Stick
.
From the Executive Director:
This is just my observation. I actually think Somalis abroad are less informed and aware of the principles of democracy. Most seem to be driven by their emotions than reason. The fact that they only react to the extreme action of the government is an evidence for their lack of commitment to build democracy in Somalia . It takes dedication, hard work and sacrifices to build a democratic society anywhere, let alone in Africa. If Somalia's are lacking the interest to participate in the building of democracy in somalia when it is relatively peaceful and only react when things are in chaos, it seems to me that somalia do not understand the basic steps in building democracy.
If you would like to know whether I know the answer to the political problem in Somalia , I don't know. I also think no one knows the right answer to this question. But I know what would lead to the answer, an open dialog among all the stake holders. I also believe that this would not happen till all Somalis think they are Somalia first and however they want to describe themselves second. If one is only defined by by tribe or region, it is hard to compromise for the good of all. So, it is hard to believe that the Diaspora know the answer to somalia complex political problem when they can't even see beyond their tribe association.
Clear-cut democratic issues like unity, individual freedom, individual rights and obligations, justice and equality for all are but bitter and sour pills for tribal political epistles and disciples. In the name of this or that liberation front, these misguided tribal political groups have already stained themselves with and washed their hands by the blood of innocent somolis,
Secessionist Somaliland and Al Shabaab
, ICU Islamic Courts Union's , SDN (Somali Diaspora Network), WSC/USC, elders of the Hawiye clan and others who carry the trade marks of so-called liberation fronts (LFs) hate democratic language and democratic preconditions. They are not willing to forge the noble wisdom of unity that serves as a pillar for peace, prosperity; they forget that democratic tradition is the pathway that brings society towards the fulfillment of democratic rights, freedom of individuals and freedom of groups. those groups are undemines the development and prolongs our position as one of the poorest countries in the world. As long as we continue to hate one another within, how can we hope to compete globally?
The Evil Triangle in Somalia: Secessionist Somaliland, Al Shabaab, and Dahabshiil Money Transfer Company
The Somali Conflict Root causes , peace-building strategies
: In-depth Look At how did somalia became terrorist haven
siad Barre was the lion of Africa....Interview with former Somali President Siad Barre - 1978
Somalia: The Ethiopian Factor part # 3
The Myth of Clan-Based Statehood
new from
Tribal Entity one clan secessionist aka Somaliland : Religious leaders demand implementation of Sharia on the accused German national for Porn films producer